HI, I AM ANDREA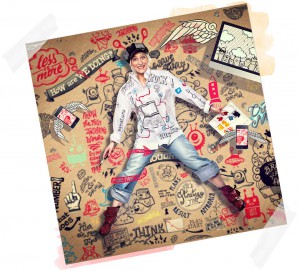 Hi, I am Andrea. My hand-drawn sketchnotes bring your texts, ideas and concepts to the point. The visual message is for each of you have something to say – no matter whether it is employees, customers or project partners. I also create collages in strong colors with clear structure as an illustration for journalistic content and web sites. I use both organic material as well as digital techniques, what a great mix together. On the request form at the bottom of this website you can have your wishes and contact me.
SKETCHNOTES
Preferably do I create sketch notes concentrated in a quiet environment. On the basis of your specifications in an interview I work one or several drafts. After further agreements I go the fine work.
Also my live sketchnotes are based on the careful preparation: the more information I receive in advance, the more accurate the result.
Sketchnotes can be created on paper or digital.
COLLAGES
There are several manual and digital techniques to use: paper, scissors and glue are just as much a part of the development process, such as scanners and image editing programs. I love clear colors, shapes and structures.
The character of a collage is but by your ideas. It is possible at any time to incorporate your ideas. We will discuss this in detail in advance.
ONLINE-COURSE
You are interested in how you yourself can create sketchnotes? This is very useful – your notes in visual form can help the communication in a team and with colleagues, the exchange with customers and suppliers, in meetings, in presentations.
There are many opportunities to use sketchnotes.  Or you can use sketchnotes just for your own knowledge management!
(The course is currently only available in german language).
Jetzt buchen! 
See more of my work in my flickr albums. I doodle, draw and sketchnote daily.